First Christmas alone was quite a challenge and not all smooth sailing.
Siros – somewhere in my head I remembered that name.  
In short, there were two options: buy a bottle of wine and wrap me in a blanket or buy a ticket and run away from home. For me, the choice was quite simple…

I bought a ticket to Athens – the cheapest option on that date. It was a completely random decision made solely due to the low price.  However, history shows that just when the rudder is given into the hands of fate, unexpected things happen.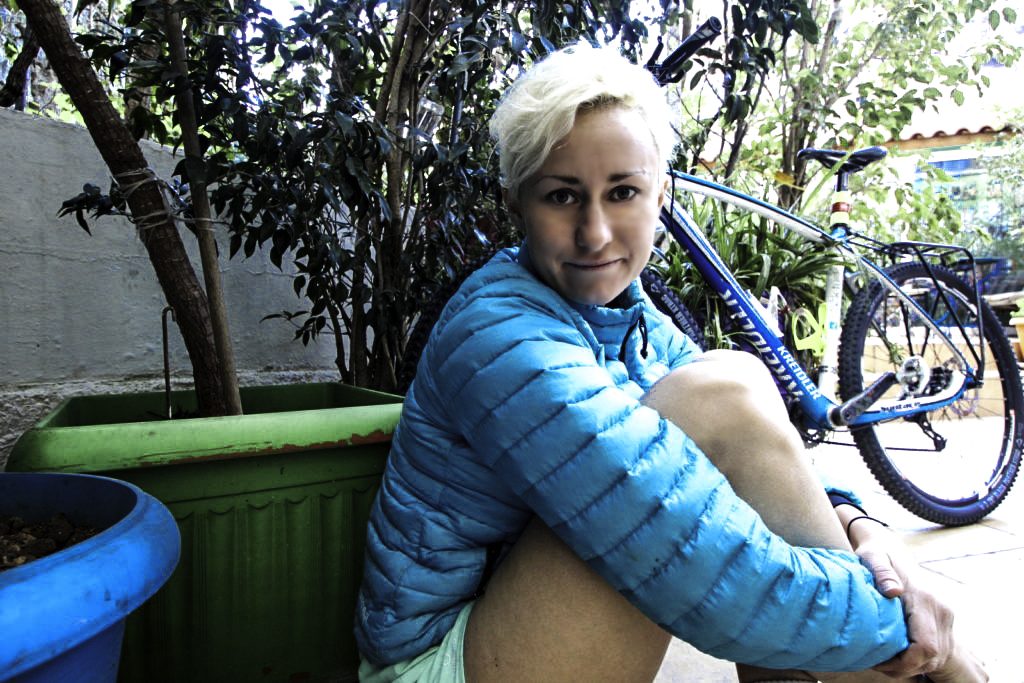 The day before Christmas Eve
Sitting at the airport and surfing the web, I was inundated with Christ's wishes from a friendly support group on my email.  Given the timing of the trip and the fact that it was the first time I was traveling solo with
a bicycle and no plans or reservations, I had some butterflies in my stomach.  As I was doing research on what to do and where to go, I suddenly realized that my trusty companion, the Canon camera I take with me everywhere, had gone missing. 
"Damn, where is my camera?" I thought to myself, my mind going in all directions.  However, happiness favors the lucky! After informing the authorities, I had sat down and waited impatiently.  That's when a delectable gentleman from airport security approached me. He informed me that my camera had been found and was at the lost and found office.  Suddenly I felt profound relief and was ready to fly! The journey was not a long one, only 2.5 hrs. It was enhanced by my acquaintance with a lovely couple and a Greek man on board. 

One bottle of wine after another and I suddenly found myself in a different place. At a different time, where the people looked different. I feel an adventure coming. It's a fantastic experience, finding yourself somewhere without a plan. I was completely out of my comfort zone. I always like to be in control by being prepared and well organized.  
Before setting off, I used my trusty duct tape to make a makeshift handle for carrying the cardboard box that contained my bicycle.  It wasn't easy, as the package is quite large (110x90cm), and weighs around 25kg.
This is where a travel companion would make things easier, helping with cumbersome packages and sharing the load. Damn, I miss my hands! Somehow I managed to roll into the bus, which for 5 euros took me
to the center – much more reasonable than the 30 euros the taxis charge.
It was 1 am when I found myself standing in the middle of nowhere in the center of Athens so I decided
to embrace the situation and seek advice from the best possible source – local taxi drivers. In cases like this, being a blondie is definitely a blessing as you will always find at least one person who will come to your aid. After a while, using nothing but gestures and body language, I found a very nice taxi driver. He took me to a cheap hostel for free – 400 m from the Acropolis. If you ever go to Athens, then I can wholeheartedly recommend Hostel Dioskours, which you can find on hostelworld.com. What is more, I recommend you take the ferry and go directly to Siros – Greece Cyclades.

I got up in the morning with a slight headache from my trip. I was overcome by a sense of joy as I realized that I am really here! The hostel in the daytime seemed pretty cool. What more could you want? Comfortable room with a sink. Given the conditions we have endured on other trips, this seems so luxurious.  Downstairs at the reception, I even made a new friend with the receptionist who spoke fluent English. The only thing left was to unleash the stallion and start my adventure! 

Although I'm not a master bike mechanic, I can do all the maintenance service on my own bike.  A few screws and bolts here and there and I never forget the washers and I always make sure everything is in the right place. I have my backpack and saddlebags packed – from now on I am on my own.
For a moment I thought that this day, Christmas Eve, should somehow be different, but destiny had other plans.  After a simple breakfast consisting of bread, butter, honey and jam, I opened my laptop to look for
a plan when I suddenly heard someone speaking Polish.  It's not a great surprise to find my countrymen in other places, but this meeting was a special one. Jola, who has the same name as my mother and is from my hometown, Wloclawek, actually knew my parents. She had moved to Greece 15 years ago for work.  
(Jola had previously worked in Siros )
City tour in Athens
Up until this moment, I had always associated Athens with only Acropolis, Parthenon, Theater of Dionysus , the Temple of Hephaestus and Greece Cyclades ( inter alia Siros ), which are not far from Athens. Apart from that, I knew nothing – a city like any other, but really beautiful and majestic. In my opinion, visiting Athens should be on everyone's bucket list. It feels like time has stopped here. It was amazing to walk barefoot on these ancient stones (my bike shoes were slippery) and feel their coolness. Sitting somewhere in the park on a bench, I asked uncle Google about the history of Athens. Without going into details, I'm sure you're aware of its history and turbulent past.
Unfortunately, Athens is also considered the most polluted city in the Old Continent. This means that Warsaw, with its smog problems, is nothing compared to the visible glow covering the entire city (it can be seen from the ferry). Fortunately, Greek Cyclades ( especially Siros ) are different. When it comes to the size of the city, it can be seen on a bicycle in two days. I started every day from my hostel in the center, on Sofokleus Street, near the metro. Being a central location, it was really convenient to get around. For example, I was only a 5-minute bike ride from the Acropolis.