Siros delicacies and Athen's regional food is one of the most pleasant memories of Greece.
First of all you can't try everything, but at least you get a taste of what the locals eat.  I planned on trying an Athenian pizza, which I had already heard about in Poland from friends. The pizza, however, did not impress and I still prefer the Cuban one with its pseudo-cheese.  Most noteworthy unforgettable culinary delights included the fresh octopus and chestnuts and the famous local sweets did not disappoint either!
Prices in Athens were higher than in Poland and the city is crawling with tourist traps.  It's best to make local friends and get recommendations from them; this way you can avoid overpaying and also try food that is approved by the experts. Therefore, I highly recommend food from bazaar stalls 😉 No matter where you go, you will find the same great merchant atmosphere filled with shouting, bargaining and controlled chaos. Everything under one roof, with fresh and cheap food for people. 

Two days is enough to get enough of Athens. So the question is – what next? I searched some forums for information and narrowed down my options to islands or mountains. 
I looked at the hills, then at the water and my instinct at the moment pulled me. Exactly towards the sea breeze on my face.  The decision was made to go to the island – Siros!
Siros amazing island
A friend from the hostel helped me find a ferry, which takes about three hours to get to the island. This is by far the biggest expense of the entire trip. But "if not now, then when". The most popular lines are Blue Star Ferries and Hellenic Seaways. You can find more information about the connections here.
I arrived at Siros around 10.30pm. A quick ride along the port revealed the high number of tourists on the island. The late hour of arrival, it put my mind at ease for the night. So I decided to look for a hotel. I was shocked to find out that the cheapest hotel that a local had recommended cost 130 euros a night! Not being one for bourgeois luxuries, I decided to go ahead and find a place to pitch my tent. The rule of thumb for these situations, especially if you're a solo female traveler, is to go a bit outside the city to a less crowded place.

After a few kilometers, I reached an opulent district of detached houses. I found there one under construction with an open fence. Without hesitation, I had found my home for the night, and what a night it was. Between the howling winds and crashing waves of the sea, I barely managed to get any shut-eye. In anticipation of dawn, my instinct woke me up numerous times during the night to check the surroundings. I had to sure make everything was in place. and make sure everything was in place.
The sunrises are wonderful
The first rays of the sun rising above the horizon were a beautiful reward for a difficult night. It was the moment when I realized that it is not worth planning. If your life with a plan you can miss life's wonderful surprises. The endless waters, the slowly rising sun illuminating the massive islands that were scattered everywhere…
It is only now that I notice that the city is dominated by two hills. The eastern one named Wrondado and the western one called Ano Siros. On the first one, there is a Greek Orthodox church called Anastasis. On the Ano Siros hill there is the monastery of Ajos Jeorjos (St. George) founded by the Capuchins in 1535 – a piece of history;)
Morning
It was 5:50 am. Having spent a restless night in my tent without any sleep, it was time for me to head out. For my first breakfast on Siros, I ate a jam sandwich which I had prepared the day before at the hostel. The island is not big – the area covers only 85 km² with 200,000 inhabitants inhabiting only its southwestern part. Therefore it is not a great challenge to cycle around the island, even for a novice cyclist. I had two days to cover this distance.
I headed out towards Galissas, which is on the other side of the island and the only campsite on the map. No less than 30 kilometers had passed before I arrived at a fantastic resort, which to me was reminiscent of Władysławowo in winter, completely deserted. In the tiny fishing port, I met the mayor of the village, who turned out to be a local restaurateur;) The culmination of our conversation was the permission to pitch my tent on the roof of his restaurant. In addition, he offered me a glass of wine produced on the island;) How wonderful it tasted!
People
The Greeks are really fantastic people. Very open, very helpful. I heard some stories about Polish wives – they like us – it's nice. Many curious people kindly approached me with many questions about where I was from and where I was headed.
I left that lovely village and pedaled towards my next destination, another small village, whereupon my arrival I fell asleep on the seashore, completely deprived of vitality. Also, I cuddled up on my bike so that nobody would borrow it. I woke up when my stomach alarm went off and persuaded me to go in search of food. This is where I met a fisherman looking for octopus just behind the rocks and after some conversation and a few hours later, an octopus landed on my plate! And here I will add – fresh seafood tastes completely different than that bought by us – the taste was phenomenal.
Seasoned with tomato sauce, lightly fried with onions… until my mouth was drooling.
Second day
This night happened to be another rooftop adventure inside my tent with my bicycle. While full of wine, I opened my MacBook and fell asleep during a movie.
I spent the next day pedaling. Reenergized, I circumnavigated the island, which is a beautiful place worth visiting and experiencing its potential adventures. There are a lot of charming coves and nooks in which you can lose yourself. Friendly people, good coffee – what more could you want?

I wouldn't describe Siros as cheap by any stretch of the imagination, especially if you are visiting as a regular tourist and partaking in normal touristic activities. I prefer local stores, bazaars and a tent 😉 This way not only do you get more value for your money but also you have a more authentic experience and meet more people. Just keep in mind that seasonal fruit is always the cheapest!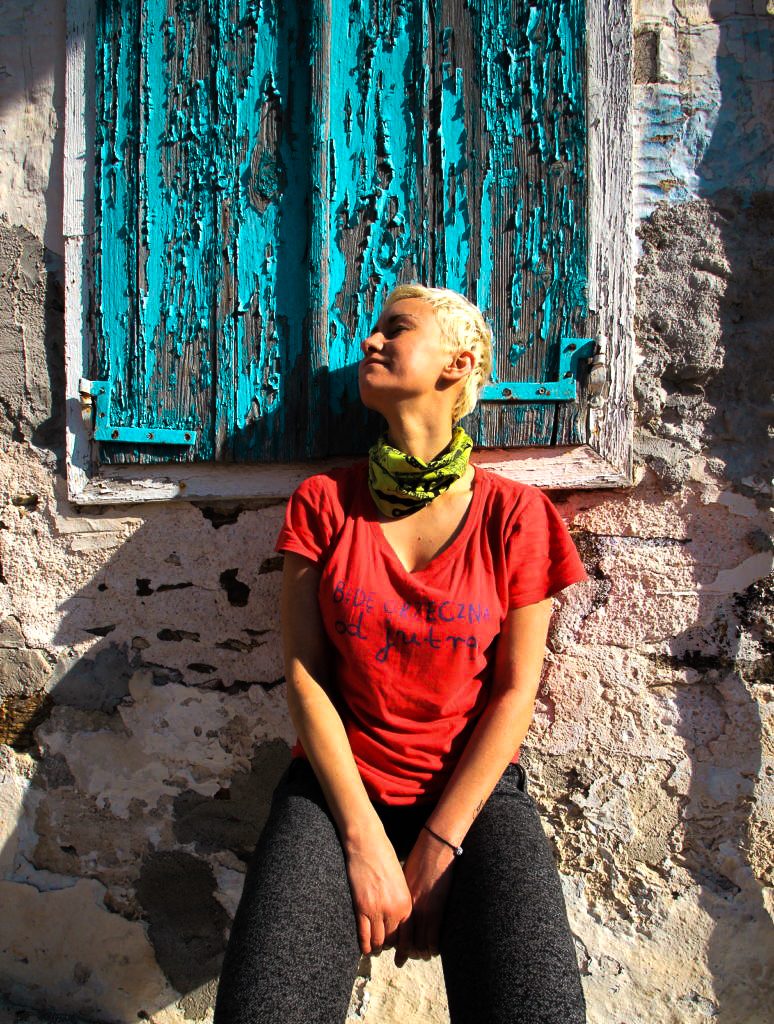 The week passed quickly. For the first time in my life, I managed without a Christmas tree, carp, and my mother's poppy seed cake. This trip was surprising on many levels. Just as though I had gotten to know myself, I realized there was still much to learn. Every time I put myself in similar situations, I push myself a bit further and learn something new about myself.
I wasn't sure if I would ever return, but three years later I came back with my children. To this day our company sticker still adorns the mirror of the hostel in which I stayed.
More pictures in the gallery.